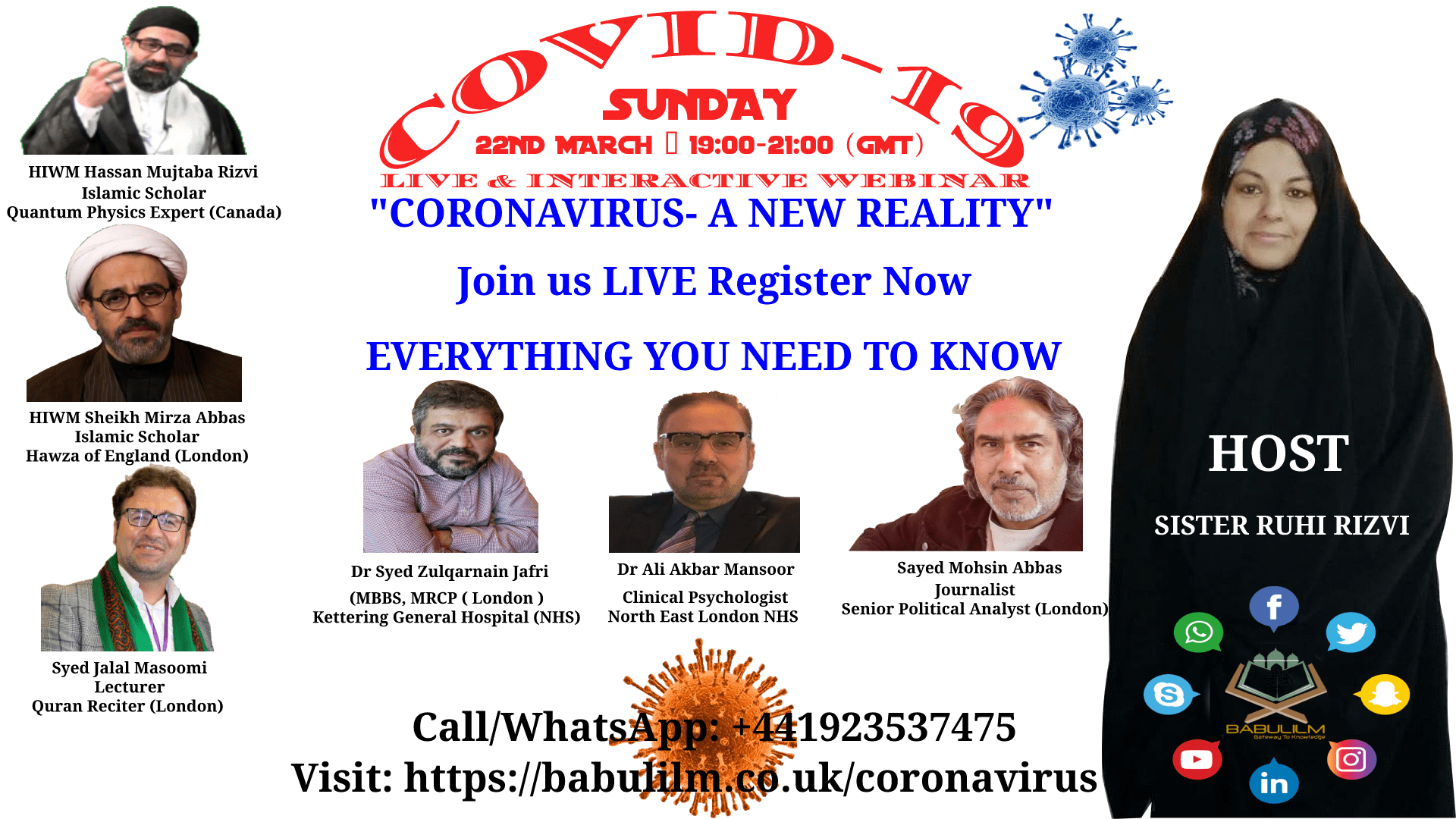 By
Fatima Zahra
Coronavirus A New Reality Live & Interactive webinar
You are invited to join us online for "coronavirus- A new reality" webinar on Sunday 22nd of March 2020 from 19:00 to 21:00 (GMT/London)
As the Coronavirus affliction is increasing its annihilation and the data/disinformation is uncontrolled with implications for our social orders.
Aim of this webinar is to bring to you everything we believe you need to know about the virus which is also known as Covid-19. To answer some pertinent questions we have with us a panel consisting of specialists within the religious, medical, psychology and current affairs realm.
Syed Jalal Masoomi-
Lecturer/Quran Reciter (London)
Sheikh Mirza Abbas-
Islamic Scholar / Hawza of England (London)
Sayed Mohsin Abbas –
Journalist/ Senior Political Analyst (London)
HIWM Hassan Mujtaba Rizvi –
Quantum Physics Expert/Islamic Scholar (Canada)
Dr Syed Zulqarnain Jafri
(MBBS, MRCP ( London ), MRCP ( Acute Medicine )
Consultant in General and Acute Medicine
Kettering General Hospital Foundation Trust, UK
Dr Ali Akbar Mansoor-
Clinical Psychologist
Professional & Strategic Lead for Common Mental Disorders,
North East London NHS
Anyone interested in joining please Register here
Or WhatsApp on +441923537475
Feel free to share with others.